'Zombie eyes' might be popular in Halloween and tv programs, but, in reality, they are absolutely not.
Dark circles under the eyes give you worn-out looks or sometimes aging-badly images at worst. Many complain about these and ask for available remedies.





Causes
can be bundled into
3 factors
that create this concern, and along with them the
cosmetic procedures
that treat them are explained:
1.
Lower Eyelid Sulcus (Crease)
    The lower eyelid sulcus or crease is located at the level of the edge of cheek bone, and this makes a semicircle dent that goes along the lower boundary of lower eyelid. It is like an annual growth ring that does not spread to sides but instead grows deeper and more apparent as the lid skin becomes loose in aging process.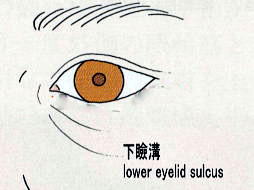 Gleam of light plays a role in how lower creases appear boldly. Lights that flash above head make them more obvious, and also reflections at window glasses show them worse.
Simple and effective treatment for this problem is
HA(hyaluronic acid) Injection
. Restylane or Juvederm are the common brand names. As fast as minutes, soon the effect is declared immediately after the procedure.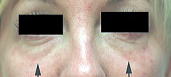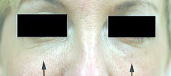 lower eyelid filler before/after
downtime: puffy&tender for few days,
if bruises observed, take around 1 wk.
If skin loosening or excess fats are present, further procedures might be necessary.
2.Orbital
Fats
    Orbital fats are the fats that embrace the eyeballs inside the bony 'eye socket' called the orbit. When eyelid skin becomes loose and saggy, these fats tend to push them out or maybe multiply by themselves to create the so-called 'baggy eyelid' situation.


lower lid fat removal bef/aft
downtime: puffy for about 1 wk., if bruises noticed, takes 2 wks. to subsid
Fat Removal
through a hole at the back of the eyelid is the main remedy with this issue. Bore a hole at the conjunctiva (membrane) and just pull a small portion of the whole orbital fat which is like a slimy orange mucus coming out of the eye. This is not liposuction and no incision done at the skin surface.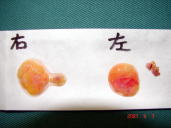 If the deepening of the lower eyelid sulcus is present, the conjuction treatment with transferring of the fats to the sulcus is performed.
Some cases show opposite situation which is the decrease of the orbital fats through aging. This results to a sunken lower eyelid that shows unwanted shadow (not so common in Asians, maybe more in Caucasians).






HA Injection
is advisable. Hyaluronic acid makes the thinned skin expand to its younger density that may allow the thickened skin to cover shadowing discoloration which mostly originates from the deep tissue.

Skin Rejuvenation Treatment
might be also effective.
Chemical Peeling, Microneedling,
or
Fractional Laser
trigger skin collagen regeneration in which you can retain thicker firmer skin condition.

lower lid skin rejuvenation bef/aft
downtime: red&puffy for hous or days, need at least 3 sessions
3.Excess Skin
Loosening
    Saggy excess skin makes orbital fats more baggy, lets the lower eyelid sulcus go deeper. It is kind of 3 factors come in a set altogether.

In this situation, the first priority will be the advise of undergoing
Lower Blepharoplasty (Lower Eyelid Lift)
surgery.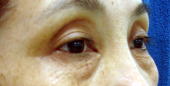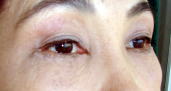 lower blep. before/after
downtime: swelling & bruises for 1to2 wks.,scar redness for around 2months observed
The procedure goes: After a line incision along lower eyelashes, a portion of orbital fat is removed and some of the remaining fats will be transferred under the lower eyelid sulcus to fill up the dent. Loosened aging orbital muscle that sorrounds the eye is tucked to the outer edge of the orbit(bony eye socket). Extra skin is removed, then closure. This is the so-called
Hamra Method
which is so popular among cosmetic surgeons that it still remains as the mainstream of treatments in this issue. Simple removal of the skin is sometimes done but it is not effective.


lower blep. before/after
downtime: swelling & bruises for 1to2 wks.,scar redness for around 2months observed
If undergoing surgery is not the patient's choice, treatments stated above such as
HA injection
or
laser
are alternatives that can be considered of, but less effect. Moderately saggy skin may be a good candidate for laser treament if orbital fats and lid sulcus are not that noticeable.
Hopefully this was a helpful information concerning this subject.