Suture Method eye lift has a
100-year
history in Japan and still is a very popular procedure for the youth and the elderly. It has evolved through this long period of time, adopting lots of names such as 'quick something' or 'natural something', but the basic process has never changed, using a buried suture to create a fold on the upper eyelid.
 This procedure is done by suturing the skin side and the conjuctiva(lid back) side together.
Both sides thread parts should be buried
and not be exposed for safety reasons. In our clinic, the tiniest but durable thread used in microsurgery is available for better and natural looks..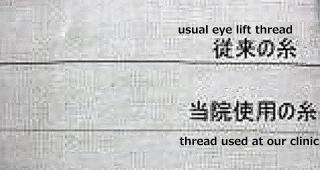 Swelling might be obvious for a few days, slight puffiness stays some time up to 1 to 2 weeks.
 Suture Method is not permanent. Sometimes it might be good enough for the used thread to function until 3-4 years and create a permanent fold on the lid skin.
 If more details are needed, refer to the ' In Focus' journal
here
.
  Pricing (10% tax not included)
| | | | |
| --- | --- | --- | --- |
| | | | promos |
| Suture Method | 1 thread | \20000 | 50%OFF |
| | both eyes 2 threads each | \70000 | 50%OFF |
| |     3-year guarantee | \100000 | 50%OFF |
| |    5-year guarantee | \120000 | 50%OFF |
| | both eyes 3 threads each | \100000 | 50%OFF |
| |    3-year guarantee | \120000 | 50%OFF |
| |    5-year guarantee | \140000 | 50%OFF |

What are Bigger Beautiful Eyes






  This is a procedure to widen the folds of the upper eyelid by incision to achieve a
permanent result
. Removal of the
excess skin
and
fats
to reconstructure wider new folds will show your eyes bigger, meaning not only for cosmetic reasons but for younger looks and improved eyesight.   
Wound scar
is done
on the fold line
, and detailed suturing is performed to enhance more natural outcome. Strong adhesion to a cartilage structure called
tarsus
must be secured by this sutures inorder to obtain a permanent effect.
  Stitch removal is on the
5th day
, make-up is already okay on the 6th,
obvious swelling
is observed from
1 to 2 weeks
, and
unnatural overdone appearance
might lasts for
a month or up to 3 months.
  With this method, the wound is done along the fold line as long as the eye width. The longer the wound the stronger the fold holds. The scar heals well on this area, but if a shorter and fast healing is the choice,
Partial Incision Method
is the option. The scar goes half-size of the full incision, folds might be weaker but still are stronger than those of Suture Method, and excess fat removal is also possible with this procedure. But if the excess skin is the issue, full incision eye lift is recommended.
<cosmetic surgery tips>In this procedure, some surgeons might advise you to do the
under-the-brow approach
instead of along -the-fold incision. But this approach is not that effective enough that sometimes surgeons might extend the scars to the temple, that is not good to see, or sometimes just perform the suture method (mentioned above) together to have a new fold which is not permanent. So be aware of this when you think of this surgery.  
Pricing (10% tax is not included)
| | | | |
| --- | --- | --- | --- |
| | | | |
| Incision Method Upper Bleph | both sides | \240000 | |
| Partial Incision Method Upper Bleph | both sides | \150000 | |
| | | | |

 A procedure to lessen the swelling of the upper eyelid is done with a
4 to 5 mm
slit on the eyelid to tear the
orbital fat
bag and release fats out of the lid.
 Frankly, it is hard to show effect with this method alone. The swelling of upper eyelid observed when getting up from bed in the early morning might be lessen by this procedure, but it takes months to see such effect, That subtle is the outcome, so usually this is performed
with suture method double eyelid procedure
(mentioned above) to reduce puffiness or to support the hold of the sutures.
  To achieve a more effective puffiness reduction of the eyelid, besides deeper orbital fats, removal of a shallower bulk of subcutaneous(under skin) fats is necessary, which is not possible to be done with a minute slit, the reason why incision method is needed for this issue.
<cosmetic surgery tips>
Removing deep orbital fats from a small slit needs a strenuous training for a beginner cosmetic surgeon. We sometimes think this as the
first barrier
in the first year of the training. A brilliant one might master this with just few cases, but some may take a year or two. And there are a few with whom several years are not enough.
Doctors who do not recommend orbital fat removal might have some issue of this. Removing fats may sunken your lids in your elderly days, is their excuse of not doing it. Maybe it is true, but it is also true that even without surgery, sunken lids get sunken.
As mentioned, this procedure is not that effective, so I think you have nothing to worry about your older days. Just suggesting that this fact may help you how to tell if your surgeon is a more precise one or not.
Don't miss the 2nd or the 3rd barrier coming ahead.
And, be sure to check the removed fats after surgery!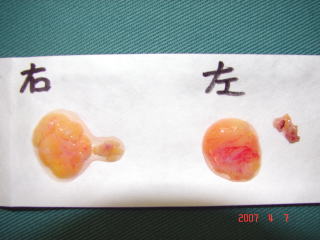 removed orbital fats  
 Pricing (10% tax not included)
| | | | |
| --- | --- | --- | --- |
| | | | |
| Upper Orbital Fat Removal | both sides | \120000 | |
| |  +suture method 2threads each | \150000 | |
| | | | |


  Incision wound is only half of the length of full incision method (mentioned above) to achieved a more fixed double eyelid and more agressive fat removal.
  Might be weaker than the full one but far more effective than orbital fat removal + suture method combined.
  This is an alternative for those who are not fan of longer wounds but needed a stronger permanent effect than suture method.
  Swelling and other downtime factors are almost the same with the full incision or maybe less.    
Pricing (10% tax not included)

| | | | |
| --- | --- | --- | --- |
| | | | |
| Partial Incision Upper Blepharoplasty | both sides | \150000 | |
| | | | |
| | | | |


  Tired of looking at your tired-looking baggy lower lid? This agressive incision method is still the most effective remedy for such complaint.
  Wounds below the eyelashes recover easily, forming unnoticeable scars. For this reason, incision blepharoplasty is still the first choice in treating baggy lower lids, instead of temporary fillers and lasers.
  The most well-known method for this issue is called
Hamra Method
, named after an American plastic surgeon who developed this method in 1995. Dr. Hamra has announced this year(2019) his retirement from a 45-year successful career.
  Recently, some young cosmetic surgery staffs here in Japan considered Hamra Method as the name of the lower orbital fat removal and transfer (be mentioned after this ). Terminology is sometimes an issue when time flies so fast, that sometimes it is hard to correct them. So, to differentiate one from the other , lower orbital fat surgery is sometimes called ' back Hamra' here in Japan since it is done with a slit at the back of the lid.
  Hamra Methos is very effective that after these years it is still very popular among cosmetic surgeons around the globe. Specifically, this procedure goes as follows:

<![if><![endif]>
   First, incision just under lashes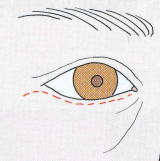 After dissection of skin-orbicularis muscle flap, orbital fat partially removed, partialy transfered underneath lower lid sulcus(circle)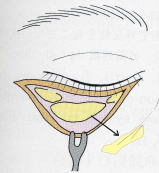 Orbicularis muscle suspension to rim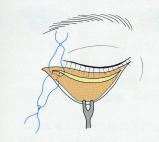 Closing stitches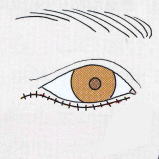 Postsurgically, a night of tape compression, stitch removal on the 5th day, then make-up can be resumed on the 6th. Wound scar redness may last for about 2-3 months but can be covered with make-up.
<another cosmetic surgery tips>Hamra Method seems to be the
2nd barrier
in training in cosmetic surgery. After a year or two of studying the course, the doctor might feel so fulfilled performing breast enhancement or liposuction in the peak of enjoyment in his shallow career, but that is not the case in Hamra Method.
Performing lower eye lift simply with an old procedure, that is removing fats and excess skin, can be done in about 30 minutes but with a not-so-satisfactory outcome.
In Hamra Method, many issues are to be dealt with in that narrow limited small space that really eat up a lot of your time. Even a trained surgeon might need almost 2 hrs to finish, and some who do not have that much experience sometimes take the whole work day.
So, asking a doctor how long he/she can do this might be a good indicator of the surgeon's experience.   
 Pricing (10% tax not included)
| | | | |
| --- | --- | --- | --- |
| | | | |
| Lower Blepharoplasty | both sides | \240000 | |
| | | | |
| | | | |


   With no excess skin but disturbed by the fats that create baggy eyelids, this procedure will be your remedy. By removing the fats from the back of the lid, you can get the fresh younger looks, without any scars on skin.
   By the approach from the back of the eyelid, orbital fats are partially removed and other parts are transfered along the orbital bone rim which is underneath the disturbing circle present at the lower eyelid called lower lid sulcus.    
   As you might have noticed, this method performs orbital fat transfer that is also done in Hamra Method, the reason why it is sometimes called
Back Hamra
in Japanese terminology, suggesting that its approach is from the back instead of the front skin.
   The actual treatment :
 incision at lid back side  removal & transfer of orbital fats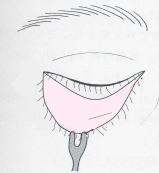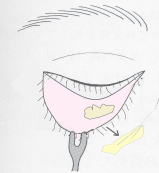 Orbital fats from the lower eyelid have the same appearance with the upper ones as shown above. Upper and lower orbital fats actually are connected to each other forming a cushion-like formation to protect the eyeball. To be more specific, lower fat pads are divided into three bags; outer and middle which are yellowish in color, and an outer whitish bag. These 3 compartments must be shaved with fats evenly so that remaining bumpy areas cannot be noticed from the skin.
  Since no wound on skin, if bruises are not present, even the next day it might not be noticeable that surgery was undergone. If bruises are observed, see it for a week, while doing make-up covering beginning the next day. To avoid bruises, tape compression for a night is recommended.
Pricing (10% tax not included)                                 

| | | | |
| --- | --- | --- | --- |
| | | | |
| Lower Eyelid Fat Removal | both sides | \180000 | |
| | | | |
| | | | |


   The
vertical size
of an eye can be increased simply with a double eyelid procedure which is performed on the upper eyelid. But if the upper eyelid is already at its limit or upper eyelid surgery is not the choice, one has to focus on the lower eyelid for widening the eye vertically, aiming of making it look rounder.
   Recently, surgery of enhancing the eye size in the lower direction called
Slanted Eye Correction
is definitely the craze among the new generations in Japan and maybe in the other Asian countries.
  Slanted Eye Surgery, sometimes called Lower Eyelid Retraction Surgery, is often performed with
Lateral Canthoplasty
(widening of outer eye corner, mentioned below).By doing so minute effect of each procedure can be enhanced altogether because of the pulling and relaxing factors provided by both methods.
  Specific Process:
     4-5mm width of skin removed along half side of lower eyelashes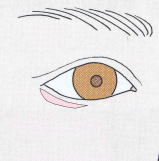 shortening of fascia(tissue sheet) at back of lower lid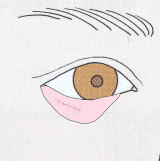 closing stitches(less than half length of Hamra Method)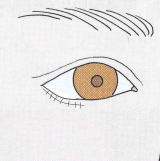 A night of compression tape, stitch removal on the 5th, and then make-up can be resumed from the 6th day. Redness of scar might be noticed from 1-3- month period but can be covered with make-up.    
Pricing (10% tax not included)
| | | | |
| --- | --- | --- | --- |
| | | | |
| Slanted Eye Correction | both sides | \180000 | |
| | +Lateral Canthoplasty both sides | \300000 | |
| | | | |
Inner Canthoplasty


   A procedure of cutting the folds(
Mongolian folds
) of the inner corner of an eye to show it wider horizontally.
   Simply cutting and removing of the fold does not show a good outcome, making it look crooked and unnatural and the worst not even widen your eye appearance. There are clinics that actually are still doing this, so be aware.    
   The method that is popular among the cosmetic surgeons is called
Uchida Method
, after a Japanese doctor who suggested this procedure. A W-shape wound and skin flap is made at the inner eye corner to retract the Mongolian fold in the inner direction.
   In our clinic, Uchida method is adopted but not completely similar. It is somewhat modified a bit to lessen wound scars, so we call it a
Modified Uchida Method
.
   The actual
Uchida Method
:
     W-shape wound marking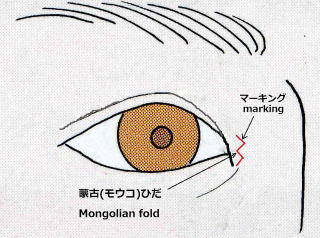 retraction with flaps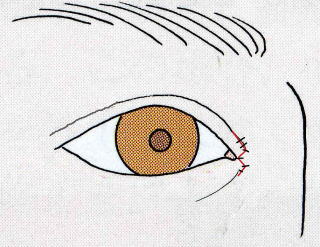 Our Modified Uchida Method:
     modified W-shape wound marking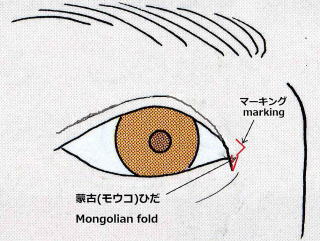 retracting folds with flaps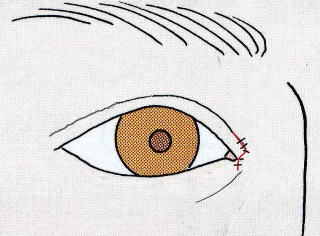 W-shaped wound's lower part is simply shortened by changing the method design. Upper part of the W is combined to the fold,also a technique adopted to our clinic's method. Both strategies are to minimize scar's appearance when it becomes obvious in certain individuals who have keloid tendency since inner eye corner is a common area of this issue.
  Stiches are removed on the 5th day, make-up begins on the 6th.
  Inner canthoplasty's scar redness might stay for awhile for some cases, so mastering to hide it with make-up is a must.    
Pricing (8% tax not included)
| | | | |
| --- | --- | --- | --- |
| | | | |
| Inner Canthoplasty | both sides | \180000 | |
| | | | |
| | | | |


   Making a slit at the end of the eye to make it wider. Likewise the inner canthoplasty, this procedure widens the horizontal length of the eye.
   This procedure is not as effective as inner canthoplasry but necessary if the inner widening is not the treatment of choice.
   To show an excellent effect, conjunction of this treatment with Slanted Eye Correction (mentioned above) may strengthen the effects of both procedure more.
  The actual outer canthoplasty goes as follows:
   creating a 5mm slit at the end corner, then trimming of upper & lower lids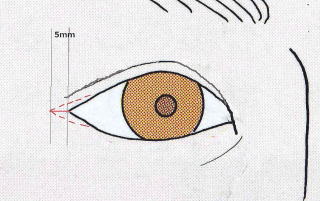 suturing of the lids while cutting stitches longer for tape pulling
   1 week of tape pulling is required to prevent reattaching of the edges. Outer canthoplasty usually creates non-noticeable scars.    
Pricing (10% tax not included)
| | | | |
| --- | --- | --- | --- |
| | | | |
| Outer Canthoplasty | both sides | \180000 | |
| | +Slanted Eye Correction both sides | \300000 | |
| | | | |


   Ptosis is a medical term for droopy eyelid. This symptom can occur from muscular or nervous issues of the upper eyelid levator muscle. Rolling upward and shortening of this muscle is the technique performed to open the eye wider.
   By doing so, it can improve not only the eye's cosmetic appearance but also the sight and vision field of the troubled eye.    
Congenital
(inborn) and
acquired
(occured later in life) types exist in this problem, and since levator muscle did not grow that much in congenital type, satisfactory outcome maybe hard to achieve.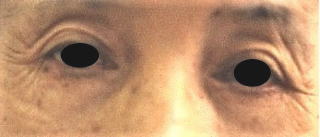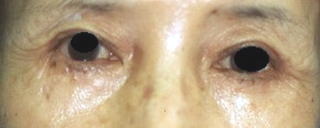 Acquired ones include those that occur from
medical issues
such as nerves or muscle dysfunctions and
senile issues
which come from weakness of muscle through aging process. The former usually occurs at a single side while the latter at both. Either type is curable with a repair surgery.
  The method is to roll upward the levator muscle to shorten its length, making the eyelid to open much easier. This process is the only difference between this method and the incision double eyelid surgery, and the remaining techniques are similar on both.
  So also the healing process of ptosis repair is not that different from incision double eyelid procedure which stitches are to be removed on the 5th day, after that make-up on lids is already okay, redness and a bit puffiness of the lid might stay for 1-3 months depending on everyone's recovery manner.        
Pricing (10% tax not included)
| | | | |
| --- | --- | --- | --- |
| | | | |
| Ptosis Correction | both sides | \250000 | |
| | one side\ | \125000 | |
| | | | |
---