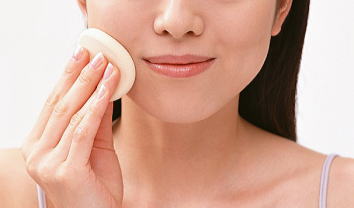 Skin Rejuvenation Care Set
is a total care of
brightening
and
tightening
of the skin.
In other words,
brightening-added-with-tightening
care.
Brightening Set
has the following
treatment menu
:
1.
IPL Treatment(light treatment)
2.
Laser Treatment
3.
Bleacher(brightening medicine) Treatment
4.
Chemical Peeling    
5.
Electrophoresis/Ultrasonic Massage    
Details of Brightening Set can be found
here
.
From here let us just focus on details of tightening.
6.
Non-invasive Tightening Devices
Non-invasive
refers to
almost-zero skin damage
, meaning
no-downtime
treatment.
Firstly, about
Thermascan
.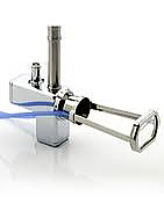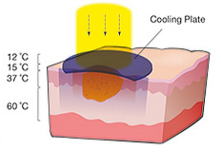 Thermascan handpiece       effect diagram
Thermascan
uses
laser
which
non-invasively tightens
the skin.
This laser is included in America's Sciton company device, the so-called
'King of Lasers'
.
This laser heats the
dermis layer
, causing
collagen fibers to regenerate
resulting in refinement of
saggy skin and finer wrinkle lines
, also a good care for
acne
, since this laser minimizes skin oil production.
Next device that we always used is
Skin Tyte
.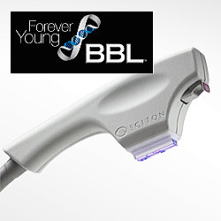 Skin Tyte handpiece   
Skin Tyte
uses
IPL(light)
for
tightening
skin
without noticeable downtime
. It heats the
deeper layer of dermis
to achieve firmer skin texture.
Skin Tyte is usually conjoined with Thermascan therapy to see more detailed effect at the whole dermis layer.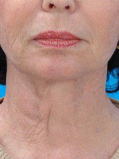 Thermascan+Skin Tyte before/after
Same as Thermascan, Skin Tyte therapy has no downtime, letting the patient soon resume daily routine.
These 2 devices are always used in the Rejuvenation Set.
7.
Invasive Tightening Devices
   Unlike the non-invasive techniques,
invasive lasers
emit
laser energy
that
shaves
or
produce microholes
to
revitalize the skin
, making it
firm and even, and smoother
if rough skin touch is the issue.
Let us start with
laser peeling
first. This laser makes
milder abrasion
of skin by peeling off the
keratin layer
found on the surface of the epidermis. to enhance remodeling of the skin. It has similar job with chemical peeling but
deeper and more even
.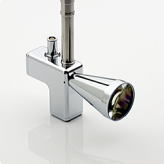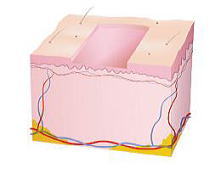 laserpeel handpiece         depth diagram
Laser peeling may not show progress in scar repair but
tightening and improvement in skin tone
can be observed.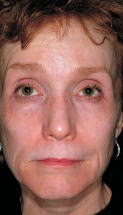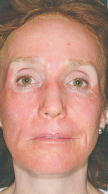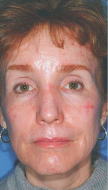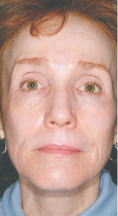 laser peel before     soon       3 days       1 month    
Redness might be observed but subsides after 3 days and can be covered with makeup.
Next technique is the
fractional laser
.


 fractional laser handpiece      layer diagram
By making
microholes
deep through almost the whole layer of dermis, fractional laser can show more
tightening
effect and
moderation of finer wrinkles
.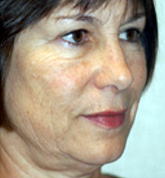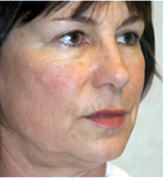 fractional before        after
Redness from the therapy resembles that of laser peel, last for 3 days and then can be covered with makeup.
Lastly and most invasively effective is the
resurfacing laser
.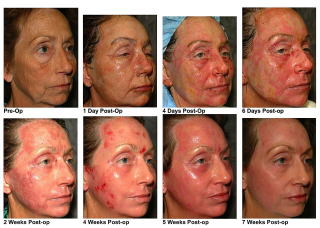 resurfacing laser's healing process from day 1 to 7wks
By scraping the
whole layer of epidermis
with this laser, expecting the remains of it along the pore to grow back, newer skin can be attained, besides showing
more tightening
,
improvement of acne scar
can also be achieved.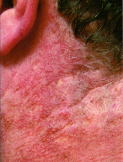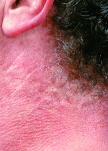 resurfacing before      after    
Downtime needs 1-2 weeks of drying up of the moist lasered skin to be able to cover it with makeup, but the redness lasts for weeks.
This has been the treatments done in our Skin Rejuvenation Set.
Feel free to ask us about these.
さらなる詳細
 、
further details