click for English
here
 in FOCUS

N-COG糸リフトの効果
How Effective is N-COG Thread Facelift





Thread Lift
, the most-performed and simplest
lunchtime facelift
technique today has been around for over 100 years. However, its active adaptation to the actual cosmetic care practice did not ignite until the early years of 2000s, a hundred years later of its proposal.
2000's early years brought us
Aptos
, the primary brand of thread lift which used non-dissolvable threads as a permanent lifting instrument introduced underneath the skin. It had spikes or barbs along on its sides which were designed to hook up skin, the idea that was so innovative and is still the main technique design of today. What was wrong with this method was the nonabsorbable property of the thread which was causing side effects such as chronic inflammation of skin tissues, bumpy skin surfaces due to this inflammation or the thread itself, and sometimes infection due to the thread's long existence inside the human tissue. And this was the reason why Aptos gradually faded from the lunchtime liftiong scene in the 2000s.
2000s' later years produced the infamous
Golden Thread
, which was trendy and so expensive at that time, because its main ingredient was no other else but gold. Many went crazy about this and spared no
expense to try this supposedly a breakthrough technique but in vain. This technique was not only ineffective, but what was worst was that people who had golds inside them were refused of undergoing procedures or body exams with electromagnetic devices such us the MRI and other medical devices when they were really needed for health issues. Because of these, it was believed that this method was already abandoned and forgotten, but still there are some clinics or salons that are practising this to thi day
2010s was the advent of
dissolvable thread
usage in thread lift. These absorbable threads have been evolving these 10 years. First , they were performed with some incisions and obvious needle points on each side of the area to be lifted, but, lately, 1 hidden needle point along the scalp or hairline is enough to perform lifting, as easy and fast as filler treatment that literally can be undergone during lunchtime and go back to work without even being noticed. And that is what
NーCOG thread
is.
Talking about effectiveness, what this newest N-COG technique can do, is the main subject of this report. The answer is , still not as good as surgical facelifts, but
its easiness to perform as filler injection
is considerably enough already to appraise its usefulness in an urgent settings or situations that surgery is not the choice. Absorbable threads fade within half a year but activated collagen and elastin regenerations help linger thightening process until 1-2-year time.
Excessive amount of saggy skin might not be a good candidate for this method. Thread lift is desirable for
less amount of skin sagginess
which surgery is still not necessarily an option or cannot be an option. And obvious wrinkle lines such as the 'parenthesis'(also called nasolabial folds) cannot be pulled enough with thread procedure, and filler treatment is recomendable.
N-COG's latest version is called
N-COG Spiral
.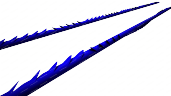 N-COG Spiral's big difference from the traditional ones is that
barbs
(
spikes
) along the thread are stronger than ever and are aligned
spirally
to gain firmer lifting of the saggy skin within few minutes and only with tiny swelling and needle points as in filler injections.


The threads used are dissolvable within half a year but the newly generated collagens replace them to make skin firmer for a year or two.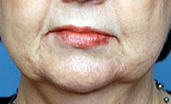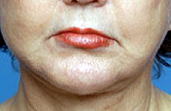 Actual treatment uses
cannulas(blunt needles
)to introduce threads underneath the skin inorder to prevent bad bruises and swelling. One side might need at least 2 threads or more and needle points are hidden along sideburns or hairlines. Like filler treatment, local anesthetics are necessary to ease pain.
Actual method: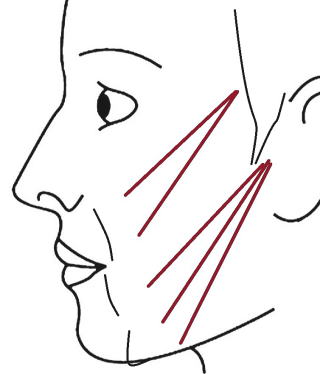 As shown in the diagram, for cheek lifting, 2 threads at the upper cheek and 3 near the jowls, 10 in total of both sides.
   1−2 threads can also be used as a trial but cannot expect that much effect.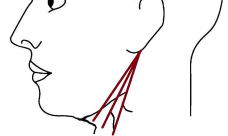 Neck sag can also be treated with this procedure with at least 2 threads, better 3 or more at each side.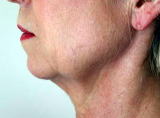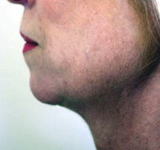 Other parts such as eye corner(below temple) and brows are also treatable.
Basically no check-ups and stitch removal are needed, just one time of treatment, months later, if it is enough, touch-up might be necessary.
This has been about the dissolvab;e N-COG Thread lunchtime facelift treatment.
さらなる詳細
 、
further details