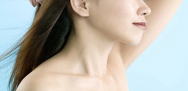 Laser hair removal
technology,
as with the other cosmetic procedures
is evolving through the years.
For this reason, various machines come out year after year
which make everyone confused to determine
what is the best
of them all.
Even every expert has different opinion
which is also caused by the diversity of the devices.
However,
which certain laser treats
certain state or area better
is now, to a certain extent
becoming clearer
.
Listed below is the main various laser
types(by wavelength〉
and their main
advantages
and
disadvantages
respectively
in their effective order:
1.
Alexandrite
Laser(755nm)
     pro:each treatment shows
good effect
     con:cannot reach deeper hair root
2.
YAG
Laser(1064nm)
     pro: better effect on
deep thicker hair
such as
men's facial/groins
     con:more pain due to its deep penetration
3.
Diode
Laser(810nm)
     pro:used in newer tech that gradually heats bulge area of the hair follicle
     con:still underdeveloped so
not so effective
4.
IPL
(Intensed Pulsed Light)
     pro:not that much pain
     con:can only reach shallower layer so not that effective
Concluding from these factors, alexandrite and YAG
might be the answer for a successful hair removal.
Let's see more about the details and other features of these lasers:
1.
Alexandrite Laser      

Alexandrite laser allows relatively
better melanin absorption

inside skin layers
and has the wavelength of
755nm
.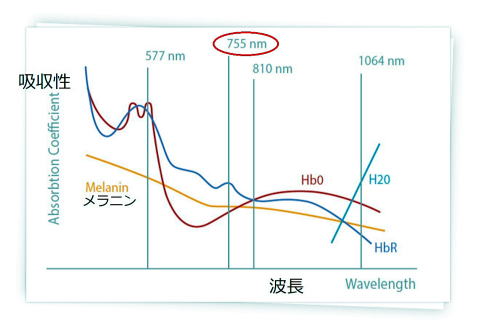 When the laser energy is absorbed by the melanin
hair follicles are heated and destroyed
the process which leads permanent hair removal.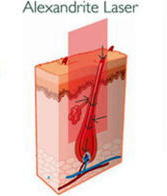 Alexandrite laser causes
less skin damage
so higher laser energy can easily be applied
into hair follicles.
Generally this laser removes well
finer hairs
such as
body/arm/leg
hairs


and
fine facial hairs
.


Other advantages
include
relatively
less pain
and
lower risk
of burns.
Also works for
pigments such as
sunspots/freckles

and
acne
a good remedy for
skin revitalization
.
Alexandrites
disadvantages
are
its weakness in penetrating deeply to thicker follicles
and not working well with darker skin tone.
Skin Type Ⅰ-Ⅲ
are good candidates for thie treatment.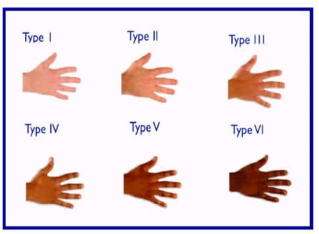 2.
YAG Laser
YAG has longer wavelength
1064nm
.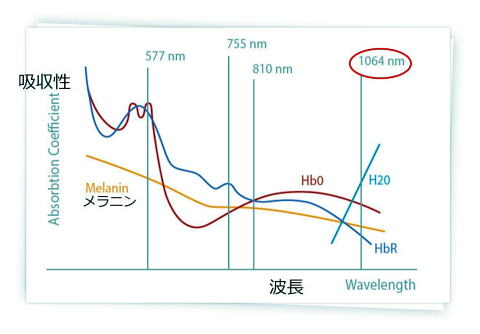 It is actually called NDYAG
and it can
focus and reach deeper
skin layer.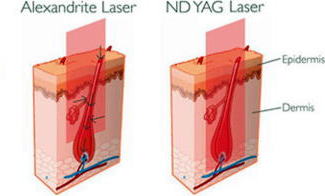 Since skin surface melanin does not absorb it that much
it only focuses on
thick deeper hair follicles
even if
higher energy
is applied.
Less melanin absorption near skin surface
means this laser is not only usable for
lighter skin complexion
but also for
darker skin tone

such as
skintype Ⅳ-Ⅵ
with a very satisfactory effect.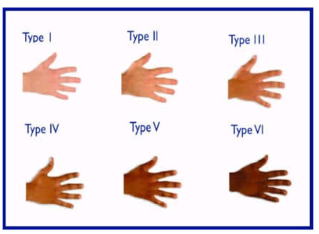 Speaking of thick deep hairs
VIO area
(Japanese terminology for
bikini line=V, groin=I, around anus area=O)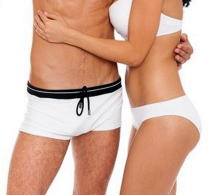 men's facial hairs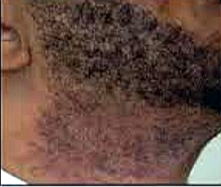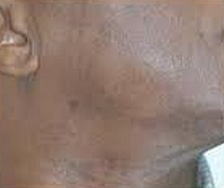 and
armpit.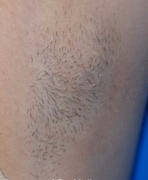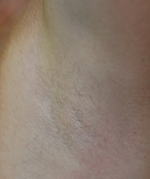 YAG laser
disadvantages
are
pain
because of its power to treat deep layer.
But since at this point only YAG can treat thicker hairs
an excellent
cooling system
is the best remedy
to prevent it.
3.
Diode Laser
Diode laser has
810nm
wavelength.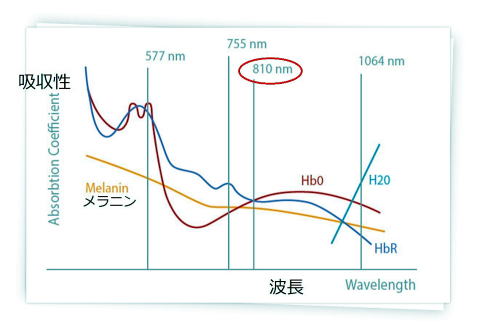 Its melanin absorption is almost as the same as alexandrite.
Lately it is used as a tool for
thermal heating
type of hair removal device
which is not targeting melanin absorption
but instead to warm up the part of the follicle called
bulge area
where follicle's stem cells are
an attempt to make them dysfuntional.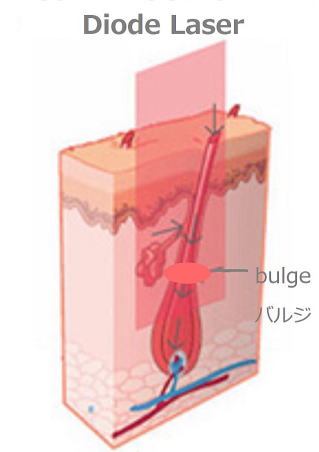 The main
advantages
of this treatment are
the slow warming of the target follicle
that needs less energy
meaning less pain
and since no melanin absorption
it is said to be the hope for blond and gray hair removal.

However, because this technology is still underdeveloped
not only melanin-less hairs
but even regular dark hairs
are not reacting that much with its laser.
This is the biggest
disadvantage
of this device.       
4.
IPL
IPL uses light rays
that do not include harmful rays
such as UV rays.
Different wavelength
are in it
its name
IPL
stands for Intense Pulsed Light
some call it
Photo or Foto type
which is from the name Photofacial derived.
Compared to lasers
IPL's beam penetration is
very shallow
.
So its hair removal effect is very limited.
Usually performed at saloons.
Because of its poor performance
time and sessions
are needed
its effect is mostly limited to
very fine hairs
.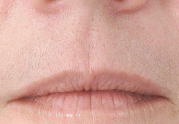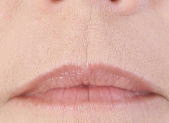 facila fine hairs
Regular hairs must be treated with
laser treatment
for satisfactory effect and less adverse effects.
Dark-tone skin
are
not treatable with IPL

because it actually causes
burns
.
YAG laser
is the treatment of choice.
This has been about hair removal treatment.
Questions are always welcome.
Please contact us.
さらなる詳細
 、
further details